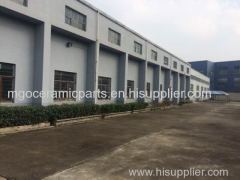 Our company was established in 2007 and specialized in manufacturing all kinds Mgo tubes, such as round tube, square tube,flat tube and with thread tube. The parts used in electric ceramic fields, industrial fields and electric heating fields. We had so many years MGO tube parts manufacturing experience. We can use our advanced process and also can design the MGO material formula to produce parts to meet our customers' requests. We can produce the minimum diameter 1.3mm MGO tube and thickness less than 0.25mm and very long tube. We reached more much advanced process level than our competitors. The main raw material was the importing sea MGO and the color was white, which can be helpful to improve the MGO tube quality and more life. We also supplied the components for the electric heating assembly parts and the purity and density was very high. Our MGO parts insulation performance was very good and stable and reliable.

At the same time, we also can make alumina ceramic parts and C221 parts, which were used in electric ceramics filed and machinery components field and auto parts ceramic filed and so on.It covered over 300 kinds of different ceramic parts.

We had over 20 sets heat pressure forming and 10 sets dry pressure forming and the special extrusion line for the Mgo tube and ceramic parts. They can guarantee the dimension no problem and the appliance was very good. We had 3 lines firing kilns , which can control the temperature very stable to guarantee the quality.

Our company quality system was ISO9001 and our main parts exported to Europe and South
America and Asian markets. With the good quality and on time shipment service and competitive prices, we gained so many customers.

We look forward to receiving your inquiries and cooperation with you in the future. We can supply you the fast shipment service and competitive prices.